You'll Never Forget To Take Your Pills Again!
Medication Problem:
Every year Medication Non-Adherence (not taking medications as prescribed) and Counterfeit drugs increase Health Care costs by hundreds of billions of dollars
To combat Medication Non-Adherence patients are offered pill organizers or programmable dispensers. Unfortunately these tools require the patient or a caregiver to identify the proper meds, load them in the proper compartment and to manually program the dispensing schedule
The pharmaceutical Industry is utilizing hologram labels and tamperproof bubble packaging, but unfortunately the counterfeiters are already duplicating these methods
The InteMed Solution:
Using our exclusive Smart-Cart technology and integrating it with your Smart Phone InteMed verifies an encrypted medication ID and automatically programs the medication schedule.
Because no one ever forgets their smart phone, you will never forget to take your meds!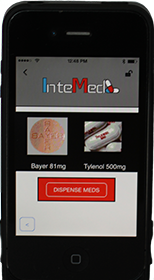 We are a small engineering and design firm located near Boston, MA. Designing and producing proof of concept products for industrial and consumer applications is what we specialize in.

We seek to partner with companies to bring InteMed to market through licensing agreements.
The Many Features of InteMed
InteMed can be designed to fit any Smart Phone and the number of Smart-Carts is only limited by the size of the phone

Smart-Cart technology encompasses pill containers with an embedded memory chip that is programmed with an encrypted medication ID and a digital prescription, which is used to automatically program the medication schedule

Our Smart-Cart technology can be used in a stationary, table top version of the InteMed device

Customizable application control

Full smart phone communication to send medication reports or interface with a vital sign monitor via cell, Bluetooth or WIFI

Automatically re-order medications

Compile custom medication reports

One port charging of InteMed and your phone

Battery back-up for your phone is also included